Social Distancing Updates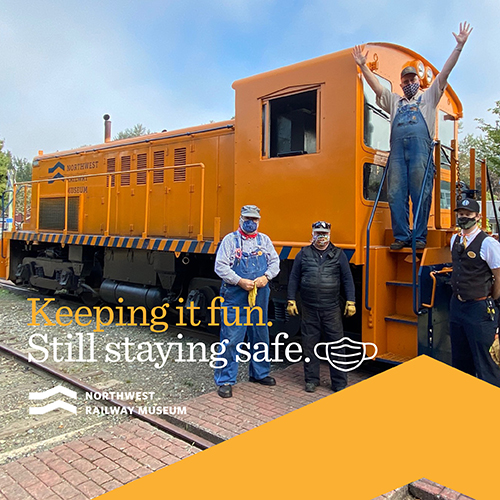 Based on the Governor's emergency proclamation and orders from the State of Washington and King County health officials, beginning Monday, March 22, 2021, the Northwest Railway Museum's interior spaces and programming are limited to 50% capacity /or 400 visitors whichever is less. We are confirming that at this time all of the Northwest Railway Museum's Snoqualmie Valley Railroad still remains in operation and scheduled trains are operating as planned.
Beginning, March 22, we are limited to 12 customers at a time in the bookstore and two households at a time in Snoqualmie Depot exhibit spaces, so please wait outside the door for someone to exit if we are at capacity.
The Snoqualmie Valley Railroad's train is a federally regulated railroad. As such, it is under the jurisdiction of the Federal Railroad Administration which requires railroads to follow Covid-19 CDC guidelines. We intend to continue operating the railroad subject to those transportation guidelines unless we are specifically ordered to close.
To ensure that we are in compliance with Federal guidelines,
ALL crew members and passengers must wear face coverings in compliance with Federal masking guidelines which cover mouth and nose.

No one will be allowed onto the train who is not wearing a mask.

Any person who removes their mask and is unwilling to put it back on while riding the train will exit the train at the next available railroad facility.
Individual household groups will show their tickets as they board the train with social distancing between the separate groups in front of/behind them.
Social Distancing of 10 feet will be maintained when groups are boarding, exiting and being seated on the train.

Groups are asked to maintain social distancing when preparing to disembark the train from the group in front of them. Wait till the group in front has moved forward at least 10 feet before rising to exit.

Consumption of food/beverages is prohibited while on board the train to ensure masks remain in place at all times.
Regular cleaning of the train will also follow the prescribed guidelines.
The Northwest Railway Museum is located in the Puget Sound Resgion which is entering Phase 3.
As a public gathering space, this is a preventative action to slow the spread of the COVID-19 virus and ensure the safety of our community, visitors, staff and volunteers. We ask that all visitors over the age of 2 and require for those over the age of 5 to wear a mask that covers both nose and mouth while visiting; this is required by the State's reopening plan for the Museum to be able to continue to allow the public to experience the Museum.
All of these precautions are being done to ensure your safety as well as that of our staff and volunteers. We thank you for your understanding and your support during these difficult times. Your support helps ensure that the Northwest Railway Museum and the Snoqualmie Valley Railroad can continue to offer unique historical train excursions so future generations may also enjoy, firsthand, the history of Pacific Northwest railroading!
We will post any updates to this page as they become available.