Social Distancing Updates
Last updated: September 16, 2021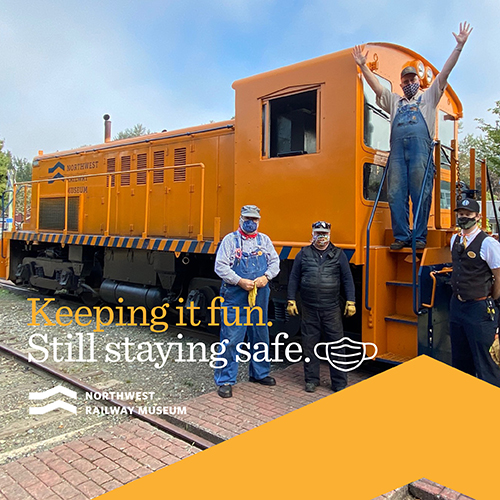 The Snoqualmie Valley Railroad's train is a federally regulated railroad. As such, it is under the jurisdiction of the Federal Railroad Administration and Transportation Security Administration which requires railroads to follow Covid-19 CDC guidelines. We intend to continue operating the railroad subject to those transportation guidelines unless we are specifically ordered to close. The Transportation Security Administration (TSA) has extending the face mask requirement for individuals across all transportation networks throughout the United States, including at airports, onboard commercial aircraft, on over-the-road buses, and on commuter bus and rail systems through January 18, 2022. The CDC announced that fully vaccinated travelers with an FDA-authorized vaccine can travel safely within the U.S., but the CDC guidelines still require individuals to wear a face mask, socially distance, and wash their hands or use hand sanitizer. The extension of the face mask requirement is consistent with this most recent CDC guidance. Beginning October 25th all visitors age 12 years and older must show proof of vaccination to visit the Museum and/or ride the train.
Under current guidelines to all persons in or on a train, locomotive, crew transportation vehicle, or in a railroad transportation facility, terminal, yard, storage facility, yard office, crew room, maintenance shop, and other areas regularly occupied by railroad personnel and all persons awaiting, boarding, or alighting a conveyance and while in a transportation hub such as a station are required to wear a mask. Because of the nature of our facilities, this requirement is in effect for all of the Museum grounds, depots, and buildings as each of these locations fall under the classification of a station, yard, storage facility, yard office or maintenance shop classifications. The May CDC change in masking guidelines for vaccinated individuals did not change the masking requirements for transportation on airplanes, trains and buses and as such the mask mandate remains in effect at the Museum for all individuals.
To ensure that we are in compliance with Federal guidelines,
ALL crew members and passengers must wear face coverings in compliance with Federal masking guidelines which cover mouth and nose.

No one will be allowed onto the train or exhibit spaces who is not wearing a mask.

Any person who removes their mask and is unwilling to put it back on while riding the train will exit the train at the next available railroad facility.
Individual household groups will show their tickets as they board the train with social distancing between the separate groups in front of/behind them.
Social Distancing of 10 feet will be maintained when groups are boarding, exiting and being seated on the train.

Groups are asked to maintain social distancing when preparing to disembark the train from the group in front of them. Wait till the group in front has moved forward at least 10 feet before rising to exit.

Consumption of food/beverages is prohibited while on board the train to ensure masks remain in place at all times.
Regular cleaning of the train will also follow the prescribed guidelines.
Beginning October 25th all visitors age 12 years and older must show proof of vaccination to visit the Museum and/or ride the train. The vaccine requirement is a legal mandate imposed by King County. The Museum is required to enforce the law as a condition of remaining open to the public. The Museum has already lost $1.4 million from closures and capacity reductions, further closures would be absolutely disasterous to the Museum.
As a public gathering space, this is a preventative action to slow the spread of the COVID-19 virus and ensure the safety of our community, visitors, staff and volunteers. We ask that all visitors over the age of 2 and require for those over the age of 5 to wear a mask that covers both nose and mouth while visiting; this is required by the State's reopening plan for the Museum to be able to continue to allow the public to experience the Museum.
All of these precautions are being done to ensure your safety as well as that of our staff and volunteers. We thank you for your understanding and your support during these difficult times. Your support helps ensure that the Northwest Railway Museum and the Snoqualmie Valley Railroad can continue to offer unique historical train excursions so future generations may also enjoy, firsthand, the history of Pacific Northwest railroading!
We will post any updates to this page as they become available.