Talgo Series VI Trains, 1999 - 2020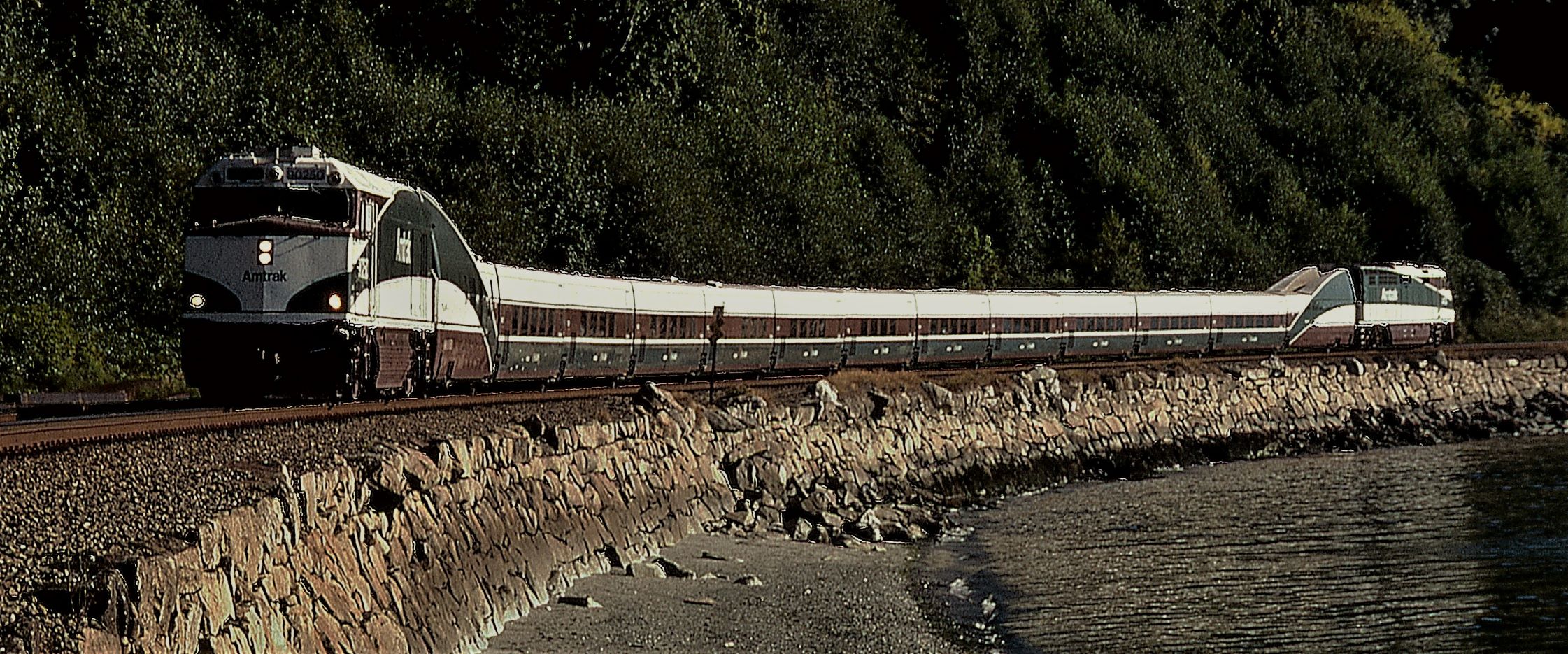 Just one car survives: Your support ensures the sole-surviving Series VI car - a Bistro - is moved from Indiana back home to the Pacific Northwest and secured. With your generous support, the Bistro will be featured in a major exhibit. Please make your gift today, which is tax-deductible to the extent permitted by law.

Talgo Series VI pendular trains were designed and built specifically for the Pacific Northwest corridor trains known as Amtrak Cascades. They served between Eugene, Oregon and Vancouver, British Columbia for 20 years, transporting more than 14 million passengers and creating a positive rail travel experience.
Following their pandemic-era retirement, the Northwest Railway Museum was able to preserve a single Bistro car. Donated by Adam Auxier, CEO of RailExCo, the car must be immediately transported to Snoqualmie by highway truck and trailer to assure its continued well-being.
Your contribution in any amount will help assure preservation of this unique artifact for its future inclusion in the Roundhouse Gallery project in Snoqualmie. Click the tabs below to learn about this fascinating chapter in modern railway history.

The Amtrak Cascades
Beginning in the 1880s with the arrival of the first transcontinental railways in the Northwest, rail passenger service has continued to connect major population centers between Eugene, Oregon and Vancouver, British Columbia, a corridor that includes two US states and one Canadian province. Rail passenger service was nationalized in 1971 and storied trains of the Great Northern, Northern Pacific, Union Pacific and Southern Pacific were amalgamated under the Amtrak brand. Following a period of unsettled funding and limited marketing, rail passenger service experienced a rebirth as regional governments saw an opportunity to improve transportation options without the massive investment required to build completely new highways.
Beginning in 1994, Spanish Talgo 200 trains were leased and introduced on specific trains along the corridor between Eugene-Portland-Seattle-Vancouver. The new trains were well received by the public and ridership began to grow.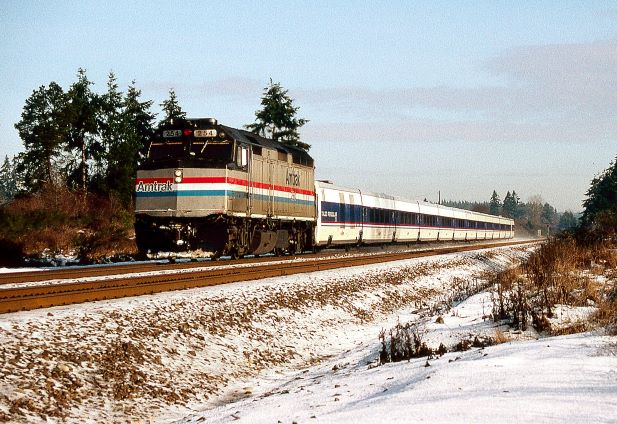 Leased Talgo Pendular train in service between Seattle and Portland.
January 12, 1999 was the official introduction of a new name for trains in the Pacific Northwest Rail Corridor: Amtrak Cascades. A joint project of Amtrak, the Washington State Department of Transportation, and the Oregon Department of Transportation, Amtrak Cascades are a branding of passenger trains operating in the corridor between Eugene - Portland - Seattle - Vancouver. A crucial element in the success of this effort was the acquisition of new passenger trains.

Talgo Series VI Trains
The new series Talgo VI trains were built in 1998 as carbody shells in Spain with interiors fabricated and installed in Seattle by members of the International Association of Machinists and Aerospace Workers (IAMAW), a union effort to put unemployeed machinists back to work. Two complete trains were purchased by Amtrak and another two were purchased by the Washington State Department of Transportation. A fifth set was later purchased that had been designed and built for service to Las Vegas, but was never inaugurated.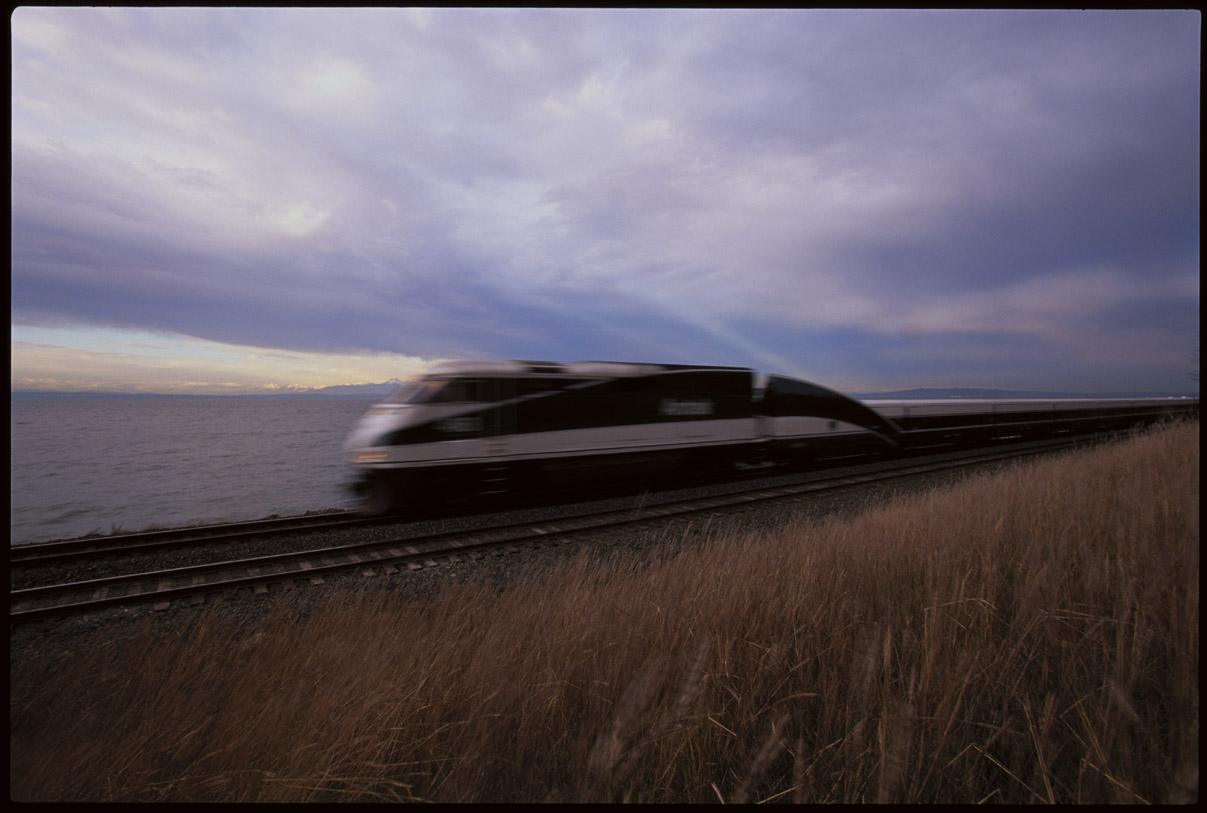 All a blur, a Cascades promotional image conveying the perception of high speed.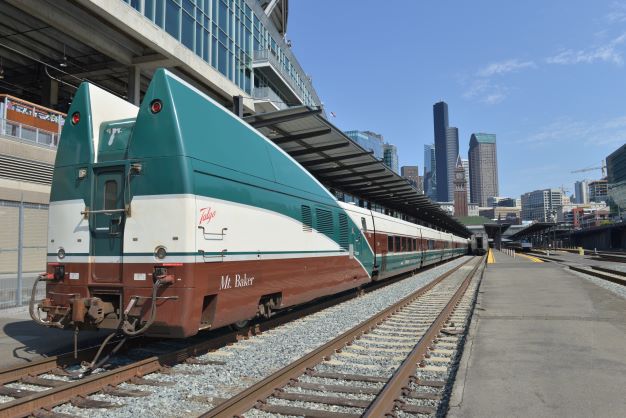 Mt. Baker train set at King Street Station in Seattle. This was a power car with the distinctive Vergara-designed wings to blend the train with the much taller locomotive.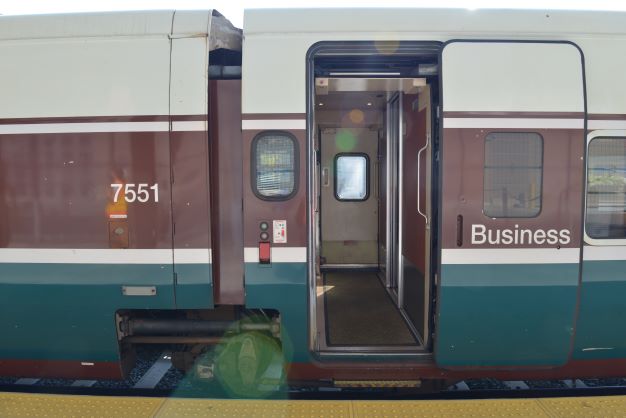 Talgo series VI trains featured a business class with three abreast seating.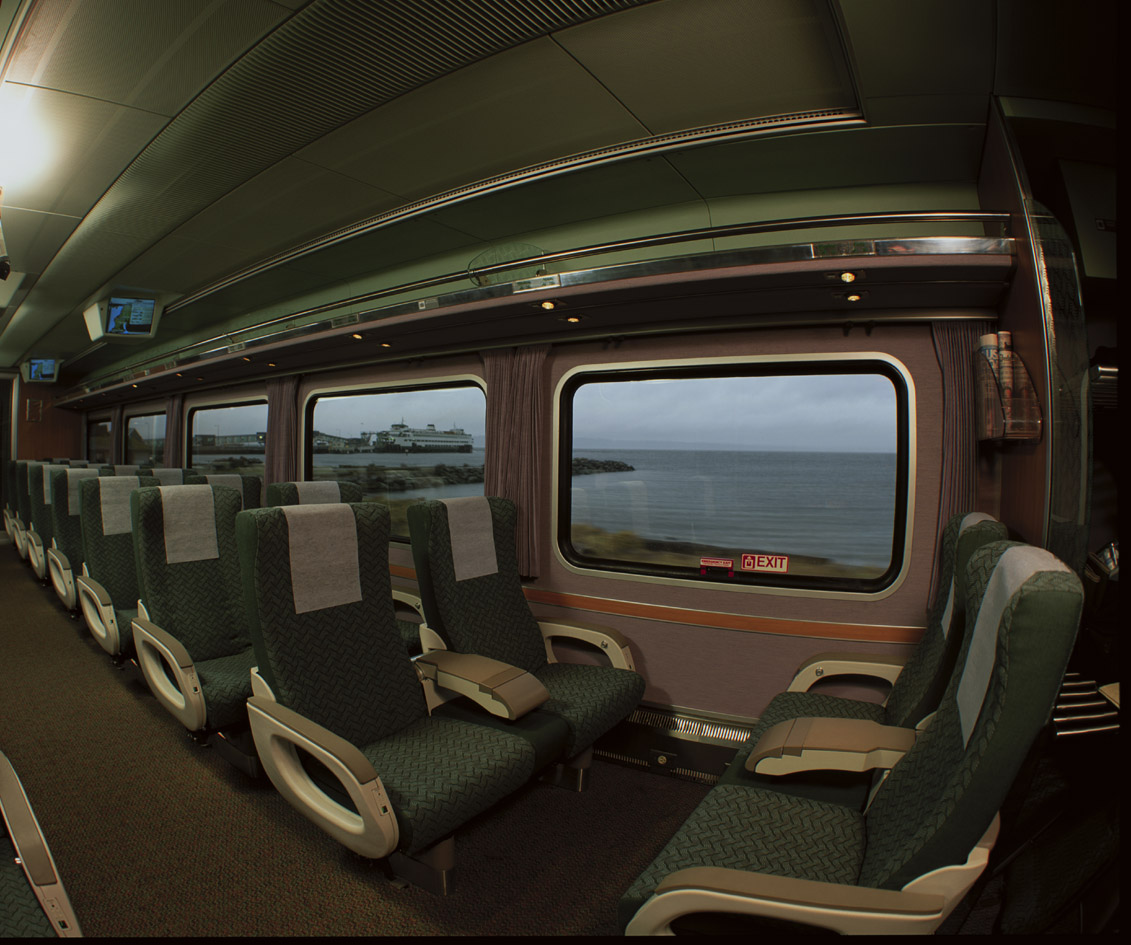 Interior seating was stylish and comfortable. Video monitors featured trip information including next stop, and route progress.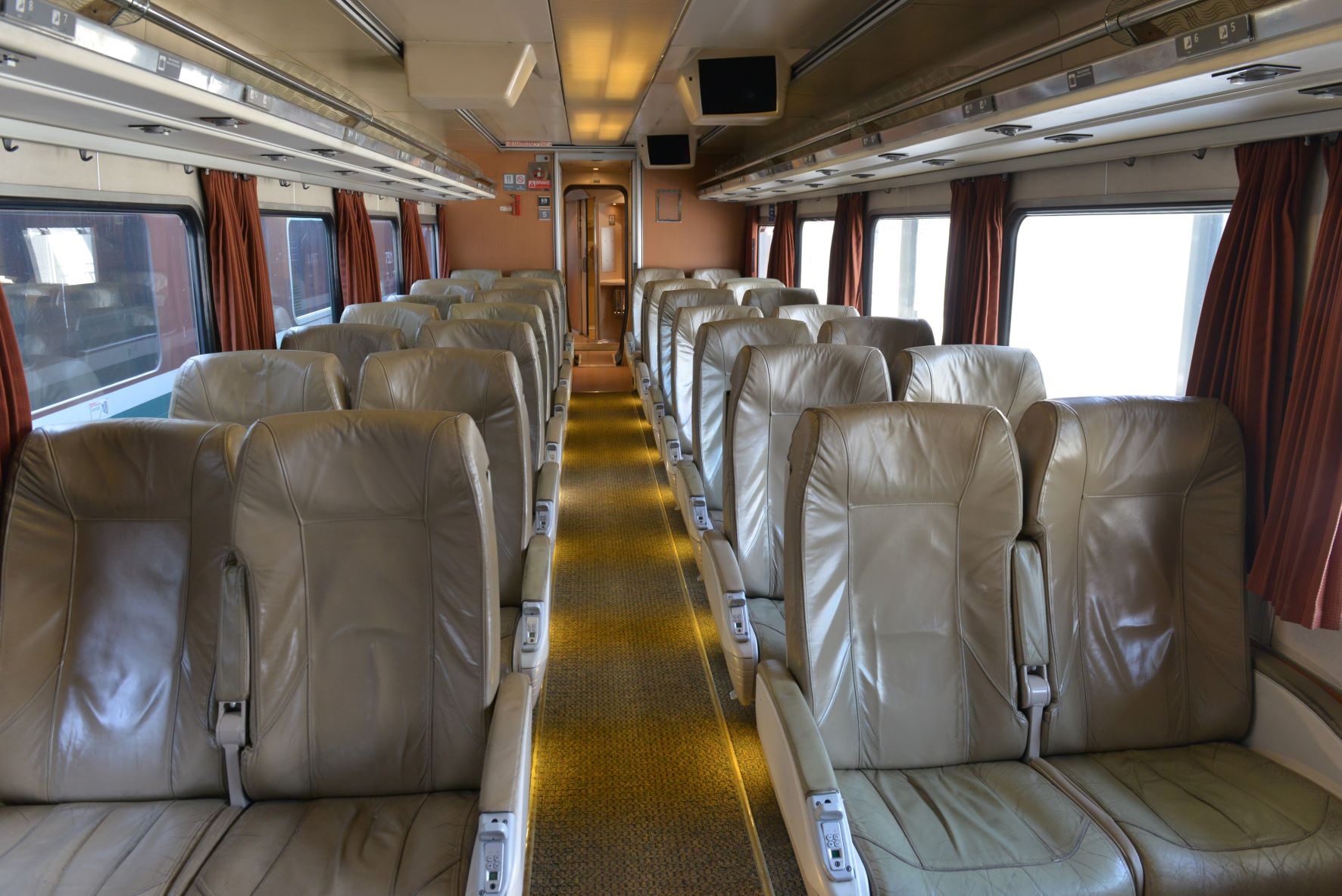 Talgo coach interiors received new seating after approximately ten years of service. Upholstery was upgraded to leather as it is easier to maintain.
The Designer: Cesar Vergara
Cesar Vergara is a Mexican-born American industrial designer who developed the unique features and colors of the Talgo Series VI Cascades trains.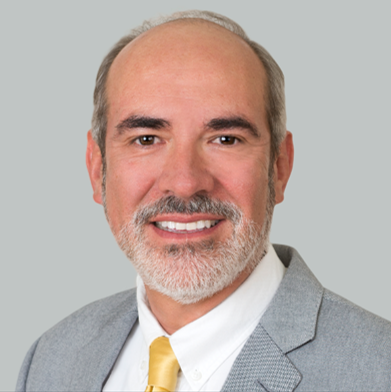 Cesar Vergara in 2015.

Mr. Vergara has had a storied career in the design of transportation systems. He completed a Masters Degree at Konstfack school of Art and Design in Stockholm, Sweden where in 1980 he wrote his Thesis on crashworthiness. After graduation, Cesar worked for Utveckling Design in Stockholm for five years, and under the guidance of Peter Maddock and Jan Örn (the team that designed the X2000) he learned to design trains. While at Utvecklings, he designed his first train, the X10 commuter train for the City of Gothenburg, Sweden. From there, his career took off; some exciting highlights include:
Chief Designer of the Museum of the National Railways of Mexico, from 1988 to 1990, undertaking design of equipment and contributed furnishings,

Chief Designer at Amtrak for 10 years, from 1990 to 2000 undertaking,

Redesign of Superliner and Viewliner interiors,

Styling of the Amtrak version of the F59 PHI and Genesis locomotives,

Design of the Talgo Series VI Cascades trains including the distinctive green, brown and white paint scheme

Mr. Vergara's original design sketch for the Cascades Talgo, drawn in 1997
AED and Chief Designer at New Jersey Transit from 1999 to 2002,
All industrial and graphic design work for the interior and exterior of the M8 commuter train serving the Metro-North New Haven line from Grand Central Station in New York City to New Haven, Connecticut,
National Principal of Design at Jacobs Engineering, 2003-2009
Design of the DC Circulator in Washington DC.
Design of the 7000 vehicle taxi fleet for Washington DC,
Design of Alstom's prototype AGV (Automotrice à Grande Vitesse), a French high speed distributed power train, and its innovative experimental recessed windshield to protect against bird strikes.
Cesar Vergara is particularly proud of the design work he performed on the Talgo Series VI Cascades trains, which just may be the last North American streamliner. In his view, "why should all the automobile designers get to have all the fun? Design is the missing link in the (United States) national rail debate."

Interior design concept for the Bistro interior developed by Mr. Vergara.


A highly skilled team of artists, engineers, and fabricators brought Vergara's vision to realty and for 20 years a beautiful train - perhaps the only one ever purpose-built for the Pacific Northwest - operated between Vancouver, B.C., and Eugene,OR.

Each Series VI Bistro Car included a dedication plaque alphabetically listing the key artists, engineers, fabricators and managers responsible for designing and building the trains.
The Bistro Car
One of the most distinctive features of the Talgo Series VI Cascades was the mid-train Bistro. Vergara intentionally avoided straight lines and included features unique to this car including an illuminated ceiling map of the Cascades Corridor from central Oregon to southern British Columbia.
Publicity photo released by Amtrak and WSDOT illustrating the new Bistro car.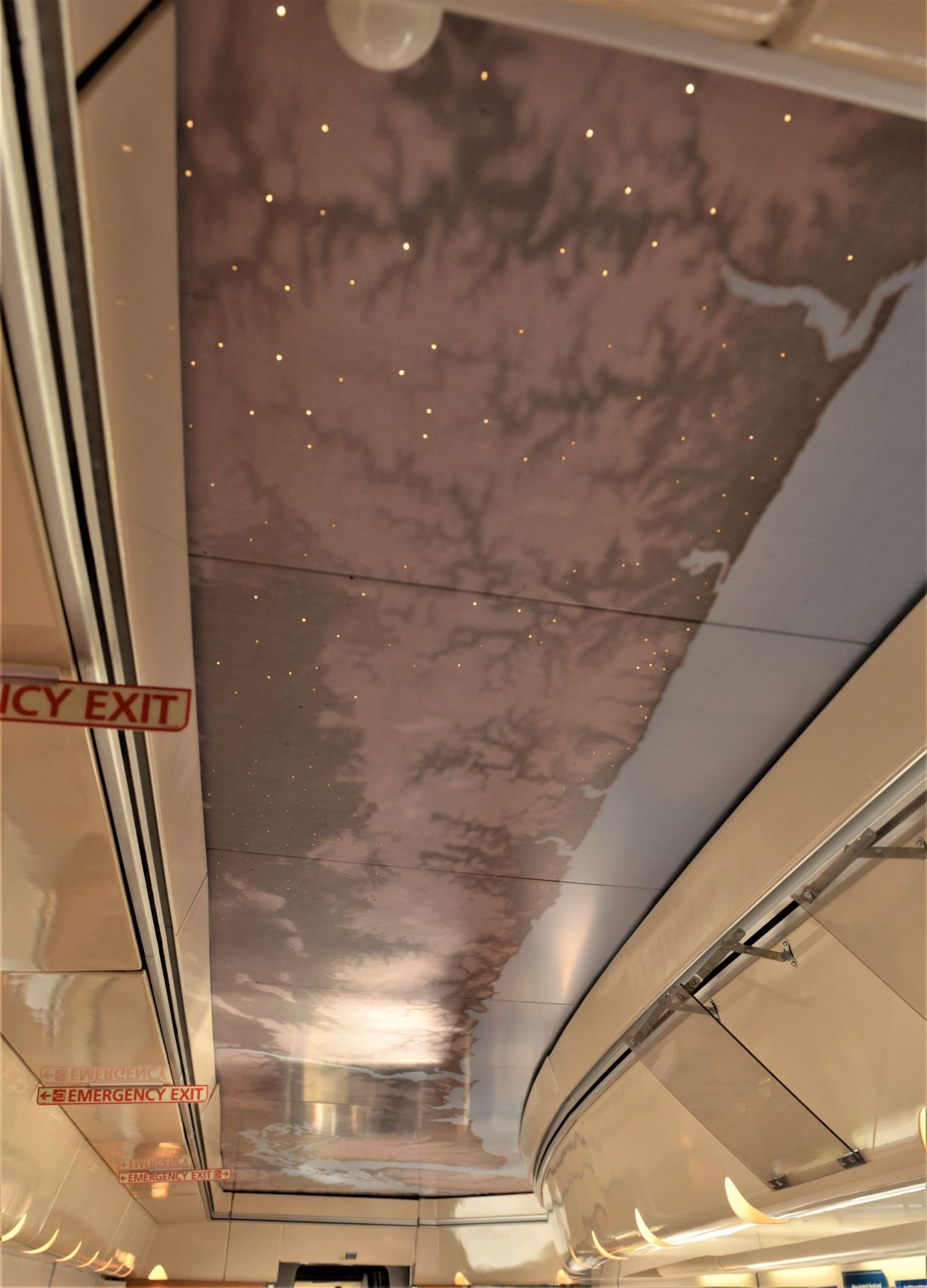 The Bistro car featured a distinctive map of the Cascades Corridor from central OR to southern B.C.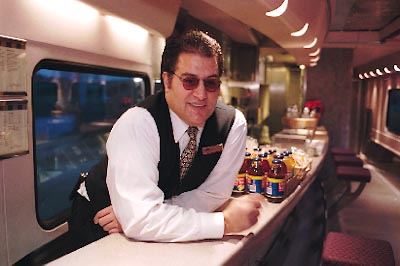 The Bistro car offered takeaway food and beverage, but also served as the kitchen for the dining car.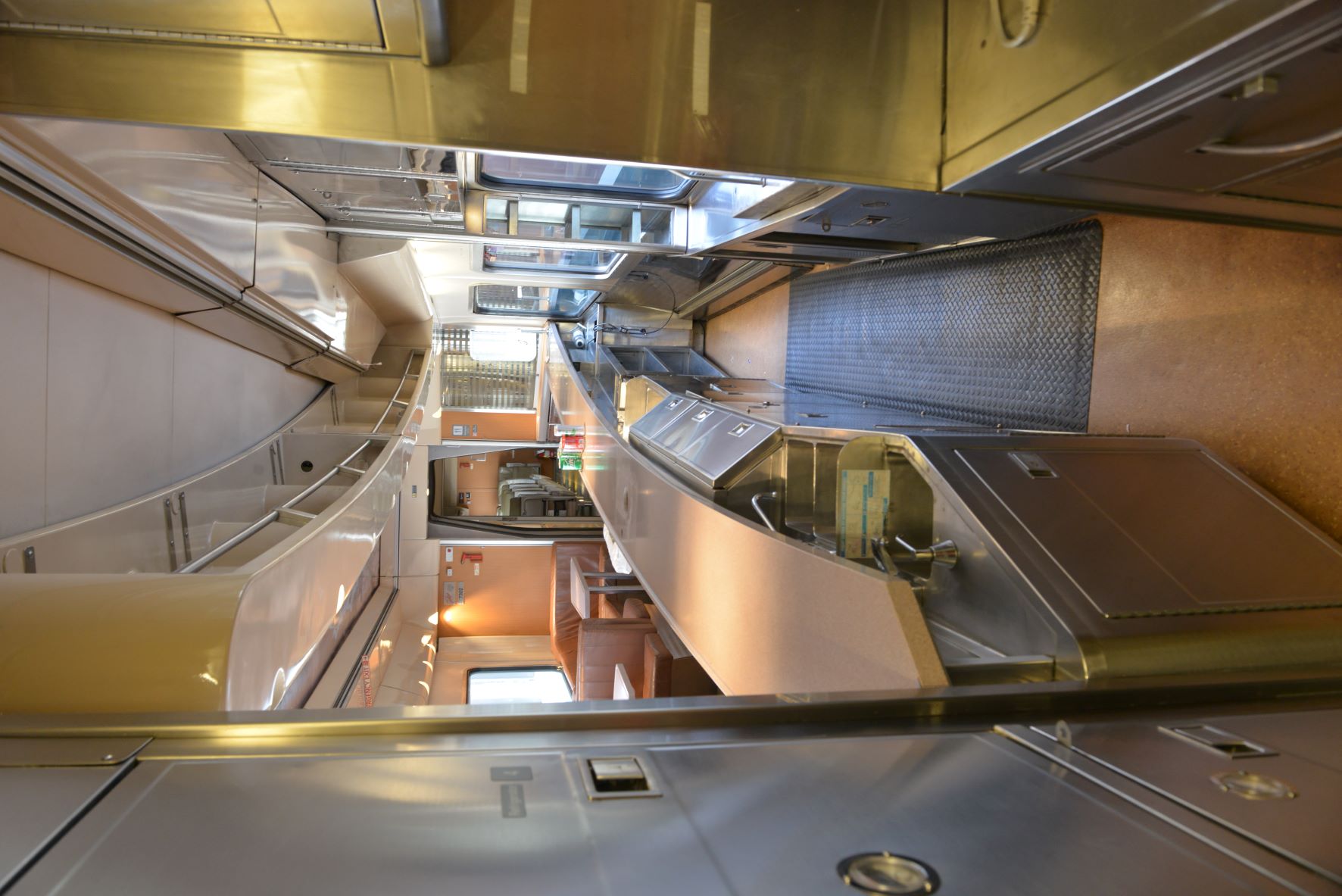 Behind the counter in a Talgo Series VI Bistro car.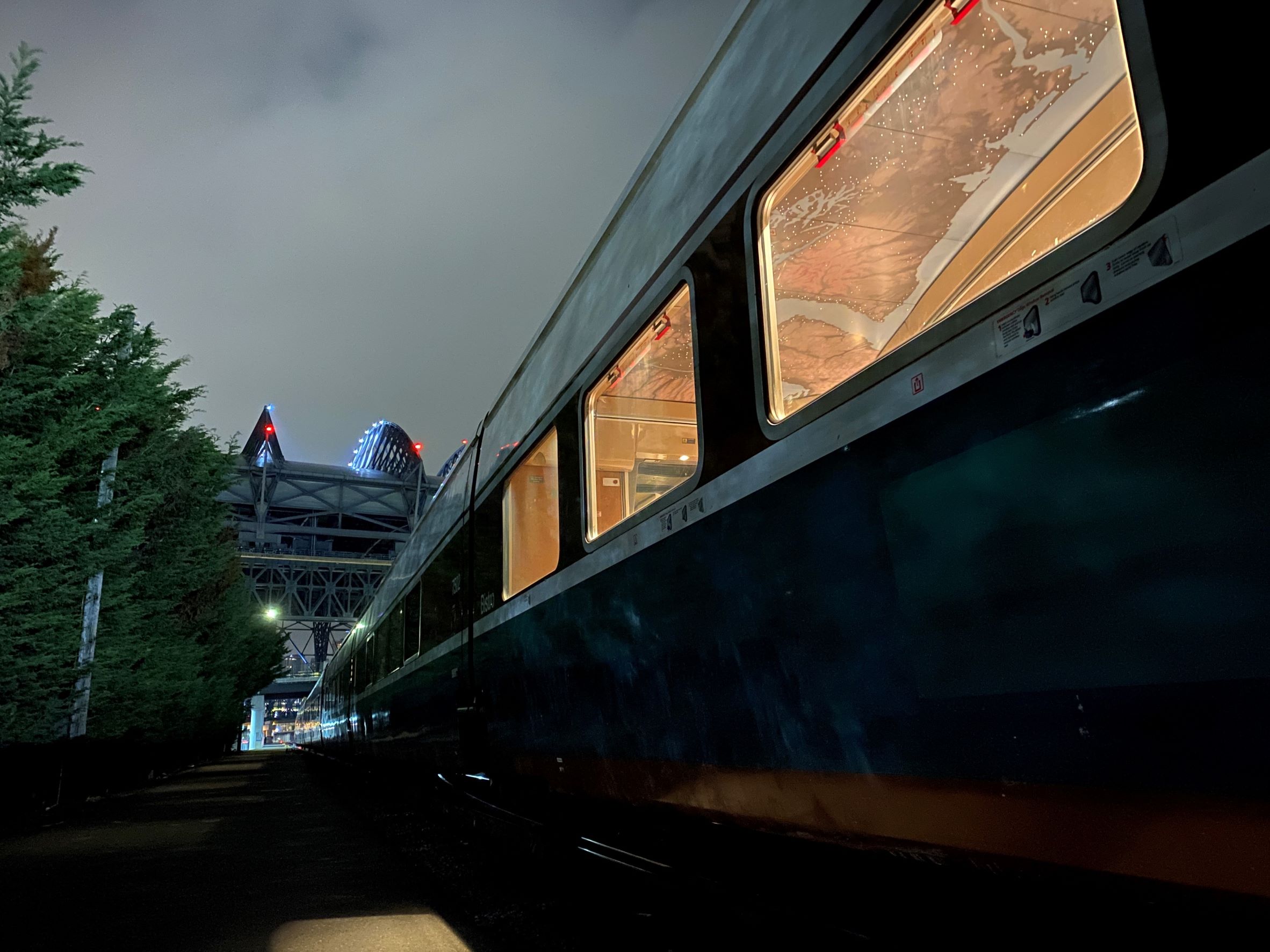 Bistro illuminated ceiling map as seen from the exterior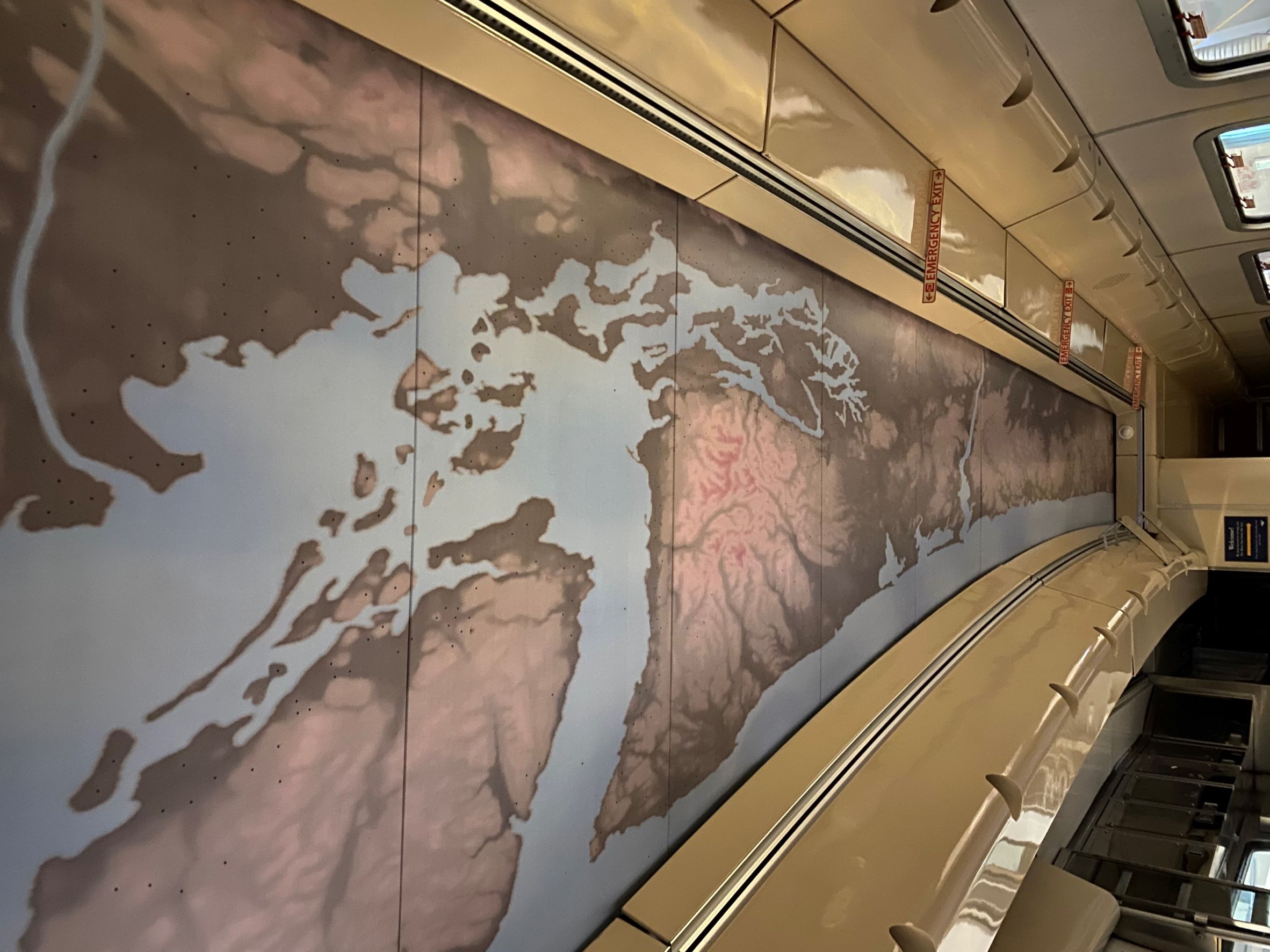 Ceiling detail illustrating southern Vancouver Island, the Gulf and San Juan Islands, and Olympic Pennisula.
Talgo Series VI Retirement
After carrying more than 14 million passengers, the Talgo Series VI trains have been retired and scrapped. Compatibility with other trains, politics, and the pandemic may all have played a roll in the untimely retirement of these wildly-popular trains, but the cars had reached mid-life and were due for rehabilitation along with some important upgrades. Program managers had to weigh the costs of rehabilitation versus replacement and the math favored replacement. All components from these beautiful trains except one Bistro car are gone.

The Talgo Series VI cars saw their last revenue runs in June 2020 during the pandemic when they were pulled by the new Charger locomotives but carrying just light passenger loads due to public health restrictions.
Preservation Support
The effort to preserve a Talgo Series VI train began in 2021 in the midst of the pandemic. Nearly all passenger rail had stopped running and the Talgo trains had all been placed in storage. The decision to retire them was announced quickly and the first of the trains were put up for auction. Preservation is seldom easy and this effort was no exception; many setbacks were encountered. To support the effort, the Talgo Series VI Preservation Committee reached out to WSDOT, Amtrak, Washington State Department of Archeology and Historic Preservation, Museum of History and Industry, Latinos in Historic Preservation, regional and national elected officials and others for support and guidance.
Eligible for the National Register of Historic Places
The Talgo Series VI cars represent innovation, ingenuity, and a uniquely Northwest style. They represent some of the finest work of industrial designer Cesar Vergara. They transformed public perceptions of what passenger rail travel can be. These considerations and others resulted in a Talgo Series VI determination of eligibility by the Washington State Department of Archeology and Historic Preservation for listing on the National Register of Historic Places.
A determination of eligibility is unusual and significant because properties usually need to be at least 50 years old to be considered for listing. However, the exceptional contributions of the Talgo Series VI and its designer Cesar Vergara have allowed this barely 20-year-old artifact to receive this determination.

The preservation of the Cascades Talgo Train legacy is important for another reason, too. It was designed by a highly regarded Mexican American designer, Cesar Vergara. The design of the Talgo Series VI trains were one of the hightlights of Mr. Vergara's career designing cars and locomotives for the railroad.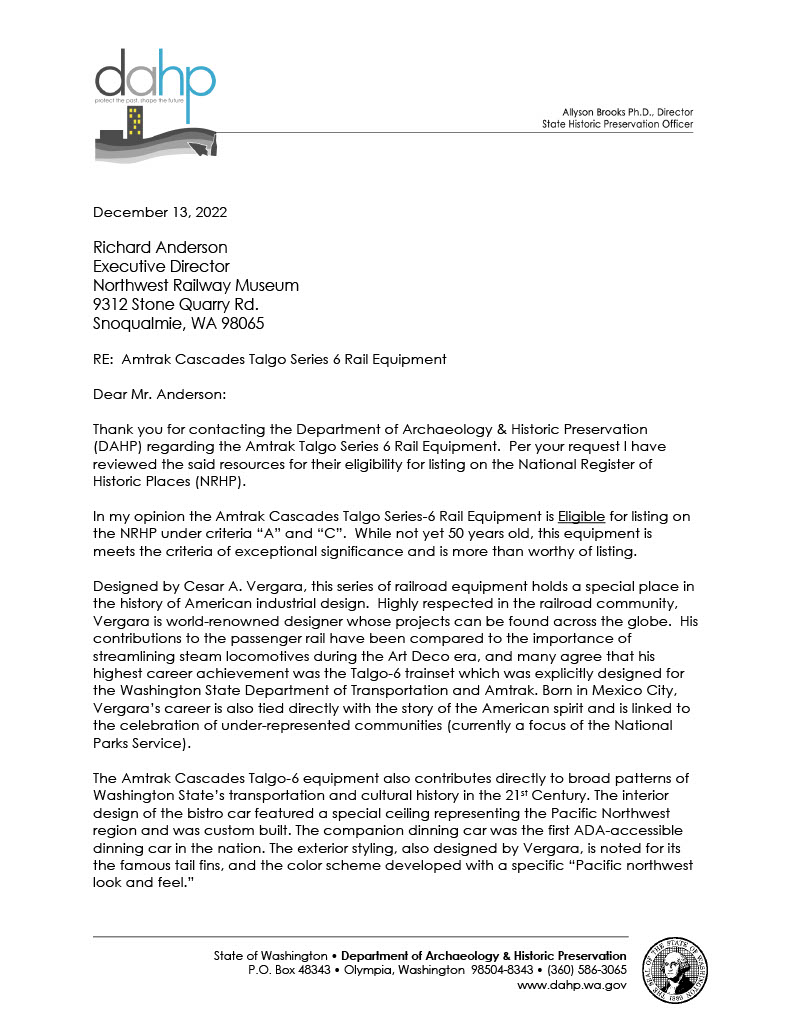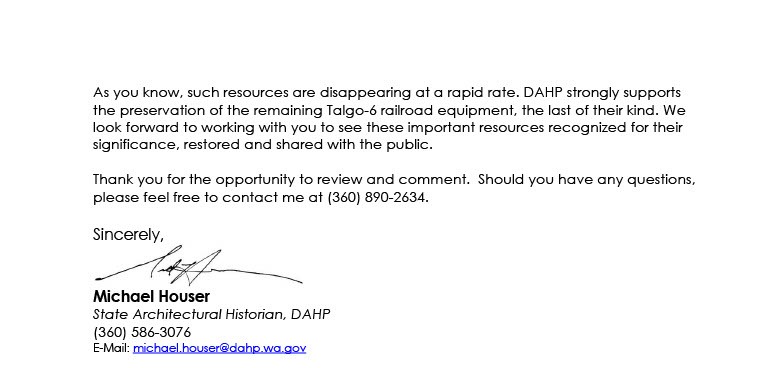 The Bistro Car exhibit
The Northwest Railway Museum is developing the Roundhouse Gallery to expand exhibits and programming; the two-story structure is proceeding through the permitting process in the City of Snoqualmie. The project will incorporate more than 35,000 square feet and will include a model railway to illustrate broad historical themes involving the railroad. Exhibit plans feature a Talgo Series VI Bistro car, which will illustrate modern regional railway history, including the renaissance of passenger rail in the Northwest and the inspirational work of industrial designer Cesar Vergara.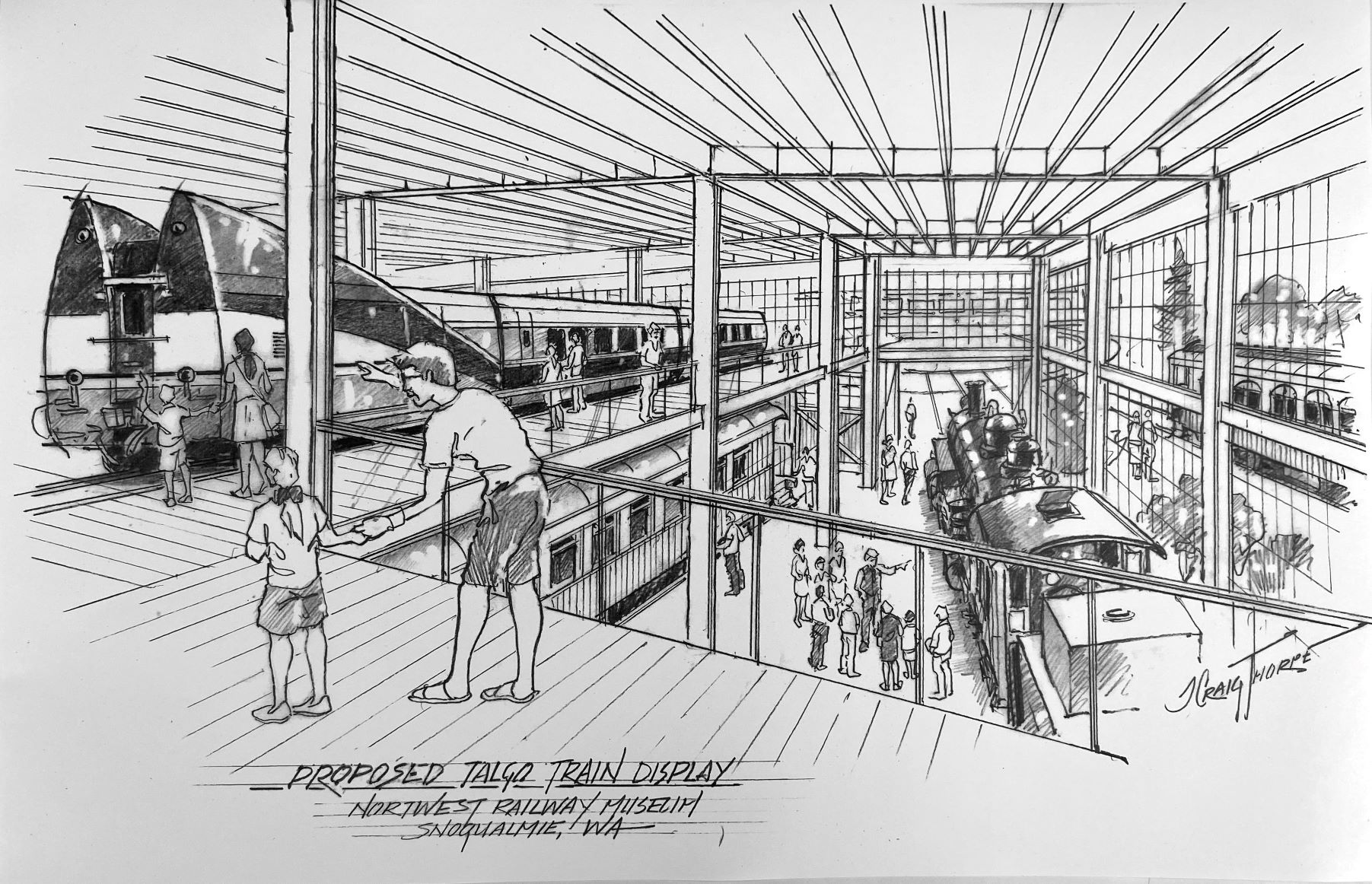 Noted industrial and landscape artist J. Craig Thorpe developed a rendering visualizing a Talgo Series VI exhibit at the Northwest Railway Museum.
Additional photographs
Enjoy this selection of photographs depicting the Talgo Series VI trains in service on the Amtrak Cascades in the Pacific Northwest Corridor.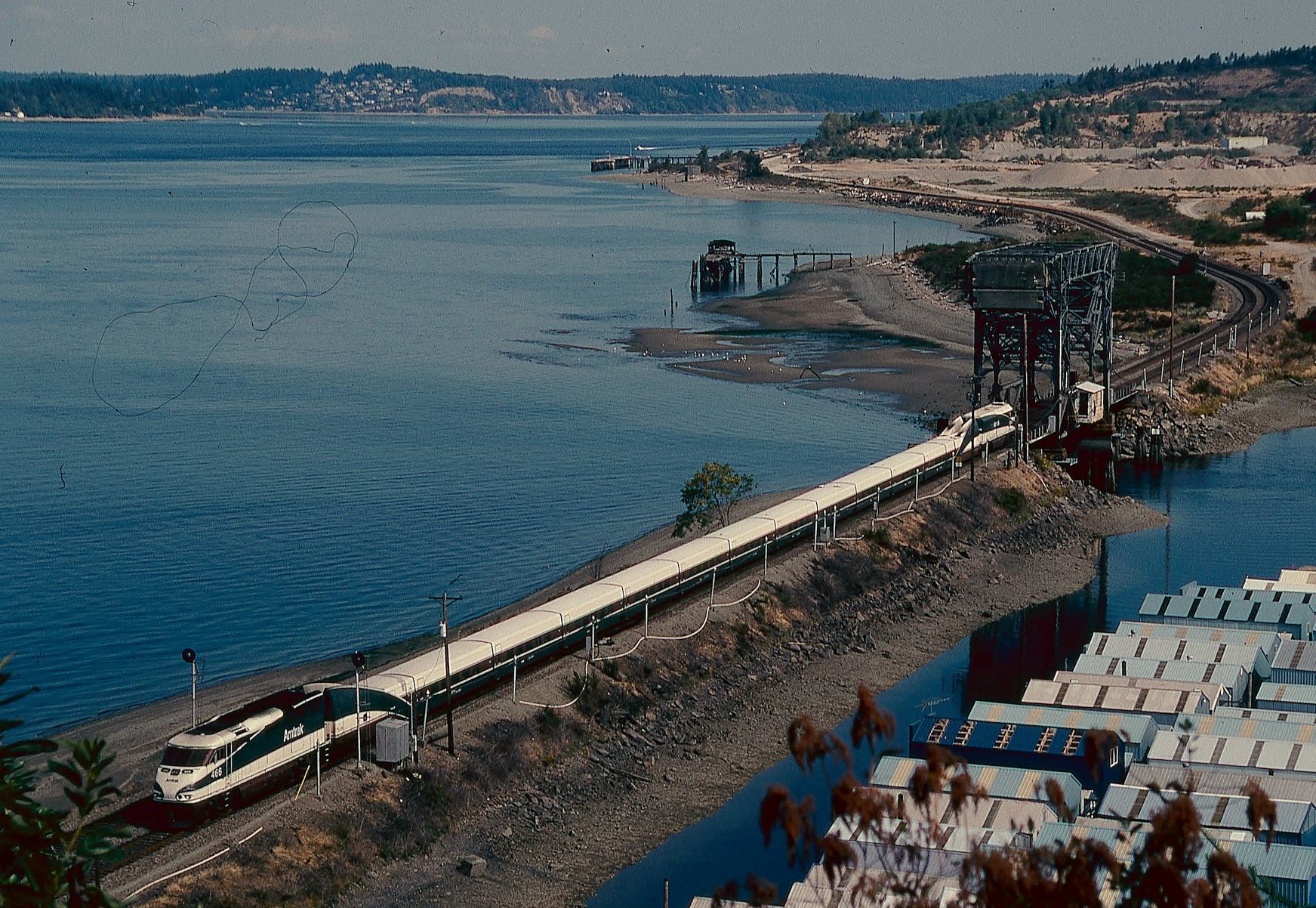 Talgo Series VI train in service along Puget Sound. An Electro Motive Diesel (EMD) F59 PHI (foreground) is pushing the train while a former F40 locomotive operates on the point as a cab car.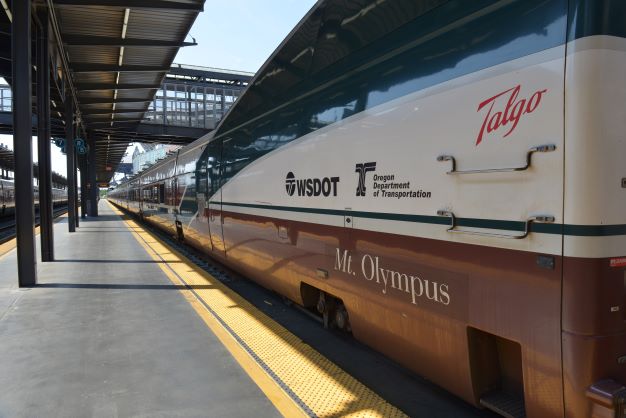 Baggage car on the Mt. Olympus train set at King Street Station. Train sets were named for prominent mountains in the Northwest: Mt. Hood, Mt. Adams, Mt. Rainier, Mt. Olympus, and Mt. Baker.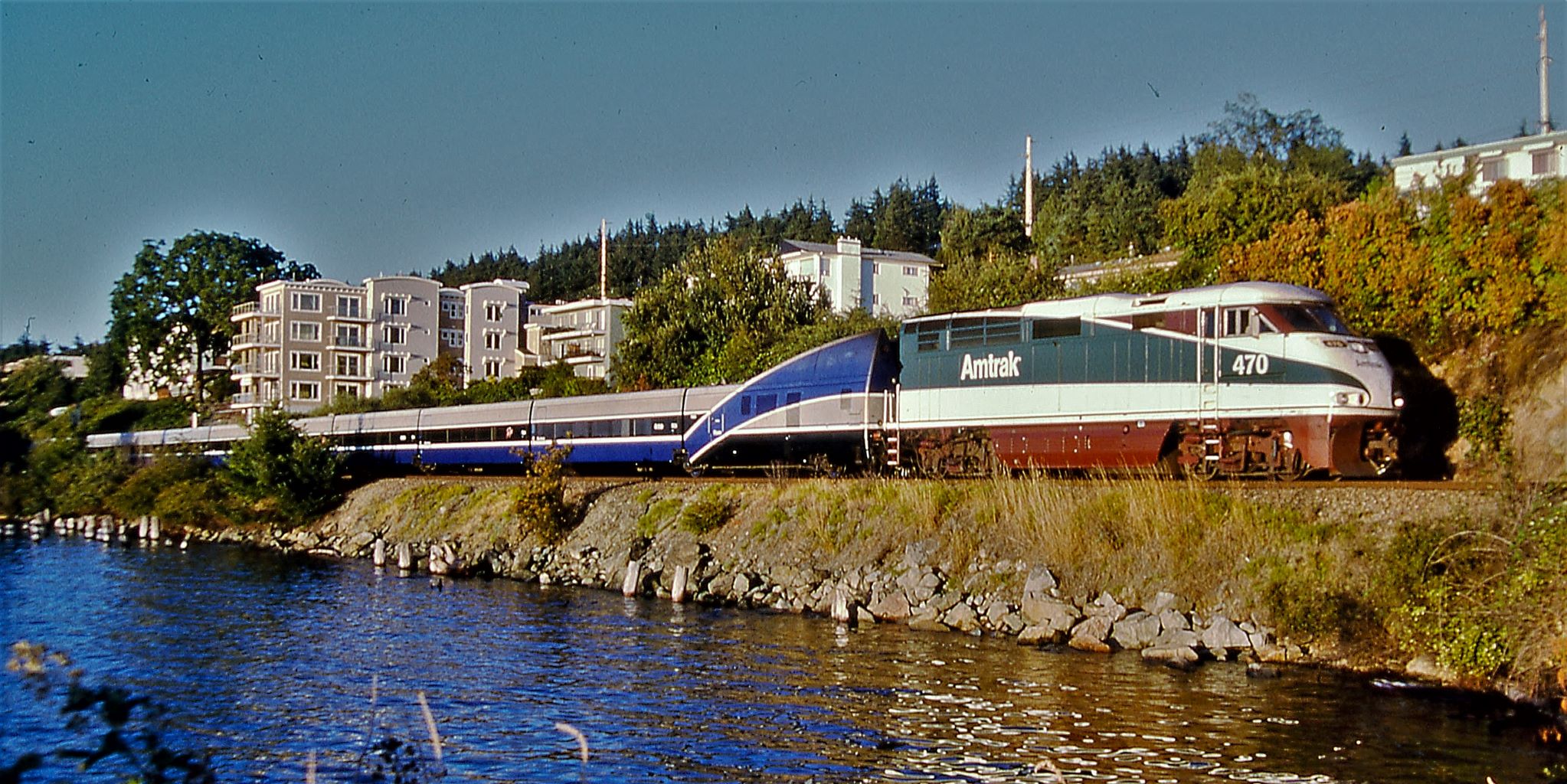 Talgo Series VI in service shortly after delivery in 1998, in a similar but short-lived livery originally developed for the Las Vegas train. Note how the "swoop" ties together the lines of the Vergara-styled locomotive with the low profile Vergara-designed Talgo train.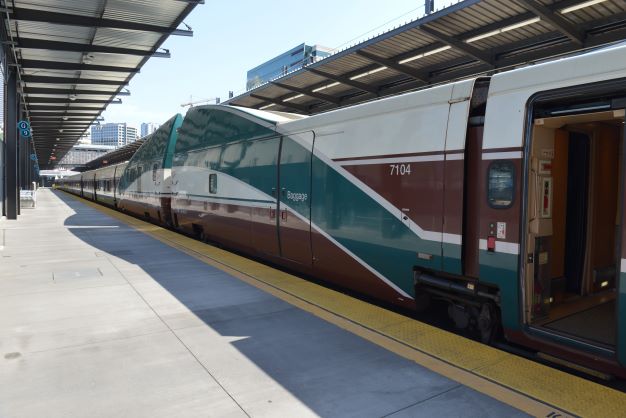 Baggage and power cars rarely appeared together. Trains were configured with a power car on one end and a baggage car on the other. The sweeping wings atop baggage and power cars are a Cesar Vergara design element that blends the low profile Talgo cars with the stylish EMD model F59 PHI locomotives originally paired with the trains.
Credits
This exhibit was created with content from:
Cesar Vergara
Jeff Schultz
J Craig Thorpe
Russell Holter
Adam Auxier
Richard R. Anderson
Washington State Department of Transportation
Amtrak

Selected References:

Assorted Northwest Railway Museum archival material