Conservation & Restoration Center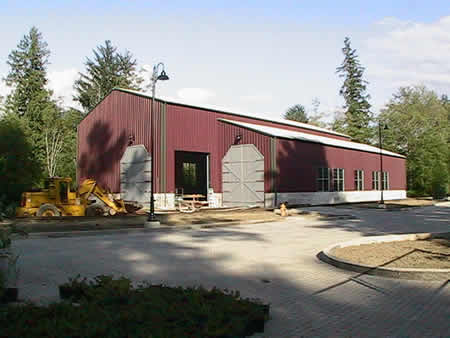 Phase one of the Railway History Center is the Conservation and Restoration Center, a facility to perform collection care to the standards prescribed by the Secretary of the Interior
Caring for large artifacts
This facility is where the Museum's full time and volunteer staff perform collection care on large objects. The Conservation and Restoration Center ("CRC") allows all types of collection care to be performed inside a heated building, including preservation, rehabilitation, restoration, and reconstruction.
The Museum identifies large objects - or artifacts - as those weighing more than 1 ton and examples include steam and diesel-electric locomotives, passenger coaches, freight cars and maintenance of way vehicles such as cranes and snow plows.
A purpose-built structure, construction began October 5, 2005 and the Conservation and Restoration Center was dedicated on August 5, 2006. The facility was placed in service in January 2007 and incorporates 8,200 sq.ft. Click here to view Construction Photos.
Since 2007 major projects have included the restoration of Chapel Car 5 Messager of Peace, SPS Coach 218, the rehabilitation of White River Timber Co Caboose 001 and Weyerhaeuser Timber Co Locomotive 1 that ran on the White River Timber Co line. Currently the major project is the restoration of the Northern Pacific Steam Locomotive 924 and smaller restoration projects are being performed on each of the passenger cars that visitors regularly ride on at the Museum.
Please note the CRC is an active work site and is not open to drop in visitors; all visitors must make an appointment in advance with a member of our staff.We cannot guarantee access will be granted, even with advanced notice. Thank you for your understanding.
Curator Stathi and volunteer Mike rivet 924 Tender Tank
Using the CRC
| | |
| --- | --- |
| | |
| A heated environment allows collection care even in winter. | The CRC is particularly appreciated for roof work. |
| | |
| Connection to the Museum's railway allows easy access. | Complete carbody rehabiliation takes place without regard to weather. |