Kennecott Copper Corp. ALCO RSD-4 Diesel Electric Locomotive KCC 201
Locomotive #201 is a model RSD-4 constructed by the American Locomotive Company (ALCO) in 1951. This road locomotive has 1,600 horsepower, is geared for a top speed of 60 miles per hour, and has a total weight of 286,000 pounds. It is fully operational and often pulls excursion trains on the Museum's Snoqualmie Valley Railroad.
The 201 is a diesel-electric locomotive: a diesel engine turns an electric generator and electric motors turn each axle. It has an air compressor to supply air for the air brake system and seating for two crew members.
The Alco RSD-4 was a short-lived production model and the 201 is the last surviving unit. The prime mover is a 12 cylinder ALCO 244 four stroke diesel. Notable in this design is the dry engine block. Coolant is plumbed to each cylinder while the engine block remains dry.
When purchased new by Kennecott, the 201 was used in the company's Nevada and Utah operations to pull trains of ore to smelters. The 201 is very similar to locomotives used by the Northern Pacific Railway, Great Northern Railway, and the Spokane, Portland and Seattle Railway throughout the Northwest.
The #201 was donated to the Northwest Railway Museum in 1984.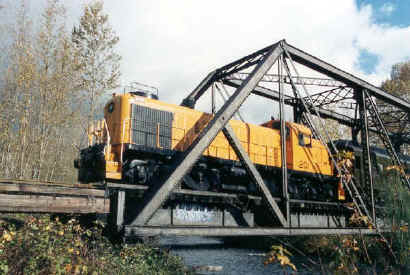 201 effortlessly pulls a passenger train across Bridge 35.
201 has six axles. When compared to the Museum's locomotive 1, this unit has about 1/3 less axle loading, which is easier on the track.