Depot Bookstore
The Depot Bookstore is the Northwest Railway Museum's store specializing in "almost everything train" including railroad history publications, collectibles, clothing, and novelties. It is located in the Snoqualmie Depot at 38625 SE King Street, Snoqualmie.
The Depot Bookstore is open 7 days per week from 10:00 AM - 5 PM. The store is closed on Thanksgiving, Christmas Day, and New Years Day.
Members of the Northwest Railway Museum receive a 10% discount on purchases, and are able to buy railway safety gear such as gloves and hardhats at cost. For more information about membership, click here.
Telephone and mail orders are accepted, and if you are looking for something unusual or unique, please ask and the staff will try to find it for you. Sorry, at the present time, the Depot Bookstore is unable to process your Internet orders. For more information or to place a telephone order, the Depot Bookstore can be reached at (425) 888-3030 ext 7202 or you can email us at lara@trainmuseum.org.
The Depot Bookstore accepts cash, checks with a western Washington address and phone number, Visa, MasterCard and American Express.
The Depot Bookstore at the Northwest Railway Museum carries:
Classic Trains Magazine
The Mainstreeter, the quartly publication of the Northern Pacific Historical Association
The Milwaukee Railroader, the quartly publication of the Milwaukee Historical Association
The Bookstore stocks Vis Major by Martin Burwash, a historical novel about the worst avalanche disaster in American history. The Bookstore also carries White Cascade by Gary Krist about the Wellington Avalanche. The Depot Bookstore carries Snoqualmie Railroad Days pins and coffee mugs.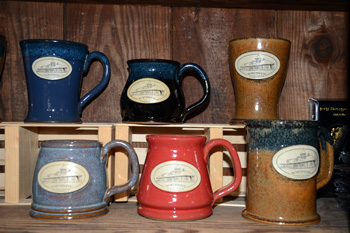 What's better than sitting and reading a book about railroads? Sipping a hot beverage while you do it! Stoneware mugs with an image of the Depot are available in a variety of styles and colors for $23.95. These mugs are made in the USA by Sunset Hills Stoneware.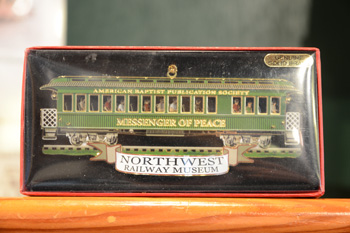 Enjoy a unique part of history as a tree ornament. Chapel car 5 Messenger of Peace ornaments are available for $17.99. A favorite during the holidays!